Events within the event
Enhance your visiting experience!
Along with our partners, we design each year a series of events to highlight the latest innovations, celebrate sustainable packaging solutions and discover new product launches.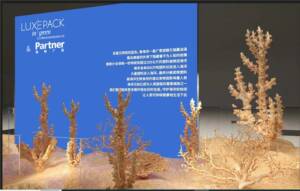 BOOTH: H01 bis
Today, more than ever, sustainability is at the heart of consumers' expectations and luxury brands challenges all over the world. LUXE PACK in green has become the premier event showcasing sustainable development to meet the needs of an entire profession. Every year, the LUXE PACK in green jury selects the best sustainable packaging solutions and responsible initiatives of exhibitors.  2023 winners of the LUXE PACK in green Awards Ceremony  will be announced on April 12th, 2023 at 4.00pm, in the conference room. Take a look at all the past winners worldwide : Hall of Fame 
LUXE PACK in green Area is designed by

Each year, LUXE PACK Shanghai partners with centdegrés to conceive and give life to unique experience merging Chinese culture and innovative packaging design…

BOOTH: B31-B32
LUXE PACK SHANGHAI 2023 & CENTDEGRES AGENCY PRESENT
"5S", A fragrance journey from Grasse to Shanghai !
Through this exclusive animation for LUXE PACK, you will be invited to a sensory experience to discover the South of France and its unique expertise and history in scents and perfumes.
Get ready for take-off, LUXE PACK and centdegrés are taking you on an inspirational getaway !
2023 LuxePack Shanghai unique experience is made possible by a collective intelligence of centdegrés, MANE (Shanghai) Fragrances & Flavours, LPLUS Packaging, Cloud Beauty and Fenshang.



Guest of honour : JUJUWANG

JUJUWANG, installation artist explores the common ground between art, nature, andculture. She has often collaborated with top luxury brands including Acqua Di Parma, Ap, Audi, Dior, Canada Goose, Givenchy, Swarovski, Tiffany etc. In 2019, she was one of the three global talents to receive "Swarovski Designer of the Future Award". In 2020, she was enlisted as one of the young artists on the «youth power» by «art power100» China, and was awarded Young Artist of the Year by Robb Report.
Do not miss her visionary talk on April 13th at 1.10pm in the conference room. 
Visit Snowflakes, an installation by JUJUWANG in collaboration with Audemars Piguet on the show floor!

BOOTH: G02
BRAND OF THE YEAR

BOOTH: H14
This year, we are exploring the world of wine & spirits with CAMUS, a multi secular family owned Cognac brand. Visit CAMUS booth to discover their latest products and innovations.
LUXE PACK SHANGHAI AND BETC DESIGN PRESENT " THE SUSTAINABLE PACKAGING MANIFEST"

BOOTH: H12
Image by Hugo Roux / SAMJI Company
Sustainability has become one of our times most important issues.
Brands are facing a new era with increasingly sustainable conscious consumers and government legislation. Some of the biggest new issues for brands are:
The climate change debate is changing consumer behavior
Companies now get exposed and boycotted for their waste or pollution. Therefore, there is a new focus on products "after life".
Brands are already looking into or doing sustainability turnarounds or will in near future.
However, finding your way in the enormous ocean of information can be overwhelming.
The sustainable packaging manifest is born to simplify this information and unfold it 9 best practices. They exist to inspire and help brands in their sustainable development journey and help them to meet the future prepared.
"FUTUROLOGY: the future of fragrance "
Project showcase from NACAA
MASTER DEGREE 2022-2023 : ART & TECHNOLOGY

BOOTH: H01-H03
This exhibition presents the course "Intercultural Communication and Management" of the first class (2022-2023) of the Master of Art and Technology of the Joint Institute EDNA-China Academy of Art (NACAA). Through this course, young students share their views on the "Future and Imagination of indigenous fragrances". In this project, they followed the viewpoint of the time, exploring the integration and evolution of the perfume culture in the future public domain taking into account the local culture of Hangzhou where the school is located. They were inspired by history, culture, society, trends and other perspectives, comprehensively exploring the possibility of future technological and humanistic development. These young designers' vision of future forms of artistic expression, future global aesthetic trends and the evolution of cultural exchange is reflected in their fragrance creations.
"TOGETHER WE DESIGN THE FUTURE! " NACAA invites you to open your imagination and look forward to the future of the perfume world.
EDNA Joint Institute China Academy of Art (NACAA) was approved by the Ministry of Education of China and was jointly established by the China Academy of Art and the Nantes Atlantic School of Design in France
In 2023, MOLINARD brings 174 years of fragrance creation to Shanghai. 

MOLINARD remains in Grasse, between heritage and future. With 174 years of history and creation in perfumery, MOLINARD is one of the oldest perfumer houses in the world since 5 generations. 


The MOLINARD house has a rare and ancestral know-how, recognized by the state label "living heritage company".
centdegrés introduced MOLINARD into China, to show this perfumer-creator, artist, and pioneer at heart.
France, perfume and Heritage brands: which evolution for fragrance knowledge and recent trends