Why Exhibit
Increase your 2023 business pipeline by connecting directly with the key packaging buyers and decision-makers.
Participate to the only BtoB trade show platform designed to bring you the key packaging decision-makers from brands of varied premium sectors
Capture the + 6,000 luxury brands executives, who visit the show every year – 81% of Visitors are decision makers
Meet Chinese and international brands representatives all under the same roof
Thrive with a continued quality of visitors thanks to LUXE PACK restricted access policy at the fair
Take advantage of the intense communication campaign before and after the trade show, to position yourself in front of strong brand expectations
Get new leads and partners during 2 days of networking
Enrich your relationships and businesses with your existing clients in a convivial atmosphere
Live an all-inclusive booth experience
Meet decision makers from all luxury sectors: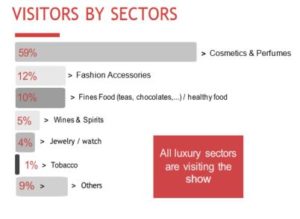 They visit the show every year:
AMORE PACIFIC – BOITOWN- CHANEL- CHENG MING MING- HERBORIST- INOHERB- JAHWA- L'ORÉAL – MAOGEPING – PECHOIN- CAMUS – JINSHA LIQUOR INDUSTRY- MOET HENNESSY – MOUTAI- PERNOD RICARD – RED BRIDGE VINERY –TORRES – YANGHE – DADEYU TEA- EMPEREUR TEA- GODIVA –HAIYANTANG – LIUMIAO WHITE TEA- SHANGHAI TOBACCO GROUP – TONGRENTANG – HIERSUN- LEYSEN1855 – ICICLE- JNBY – NEIWAI- YAYING –HUAWEI… Among many others.
The trade show runs concurrently with MakeUp in Shanghai™, automatically expanding your industry reach.

Contact the team
Please do not hesitate to contact us for booth information.
Fill in the form or contact our Sales team:
EXHIBITOR APPLICATION FORM REQUEST