Access
Dear visitor,
We kindly remind you to bring your ID card or passport and also your business card to get your badge and access the show.
ACCESS TO LUXE PACK
Shanghai Exhibition Center, 1000 Yanan Road Mid, Jingan District Yanan, Shanghai
Getting there:
Subway: Line 2/7 Jing'an Temple station, 12 mins walk
Bus: 15, 20, 40, 45, 57, 76, 93, 94, 113, 315, 321, 327, 330, 824, 830, 838, 927 – Jing'an Temple station
Taxi: Shanghai Exhibition Center
Parking nearby: Shanghai Exhibition Center
(The public parking area will be charged 10RMB / hour)
Entrance by car: Gate 2 (Middle Yan An Road)
Entrance by foot: Gate 3 (Middle Yan An Road) or 7 (West Nanjing Road)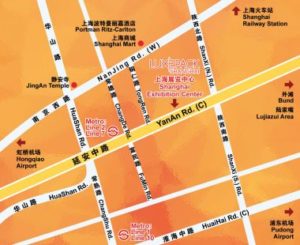 VISA INFORMATION
Visas are required by most foreigners entering mainland China.
Visitors are strongly recommended to process the application latest two months before departure. For business purposes, visitors should have an invitation letter from the fair organizers and should apply for visas directly through Chinese embassies.
Upon receipt of this invitation letter, the applicant is required to present the following for completion of the formalities at local Chinese Embassy:
Passport (with a validity of more than 6 months)
Completed visa application form -1 recent photograph
More information on: www.fmprc.gov.cn/eng
(Missions Overseas – Chinese Embassies)