Lead the way and predict the future The 15th Edition of LUXE PACK SHANGHAI was Successfully Concluded
On April 13th 2023, LUXE PACK SHANGHAI officially closed its doors to a brilliant 15th edition. For two days, 6,800 professionals were gathered, and among the brands visiting, 23% were international, an amazing performance after one year of absence due to Covid pandemic! More than 200 high-end and innovative packaging exhibitors displayed their latest products and solutions, including primary packaging, boxes, design, anti-counterfeiting, materials, smart packaging etc. Decision makers from all industries visited the show, from cosmetics & fragrance, food & drinks, jewelry & watches, fashion & accessories, clothing, household products, wine & spirits and other premium brands.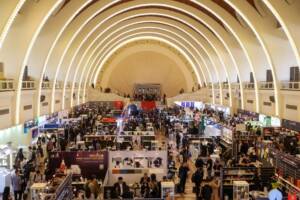 Picture of LUXE PACK Shanghai 2023
As a premier trade show for creative packaging, this year's LUXE PACK SHANGHAI gathered well-known packaging suppliers but the big success of this edition was also to welcome 24% of newcomers. For two days, visitors could meet with a wide range of packaging experts including Samding, Baralan, Mingfeng, Fedrigoni, Tae Sung Industrial, Eastman, Jinsheng, Elcos, Afa, Kurz Group, Baixinglong, Jingzhi, RR Donnelley and Jinjia, who presented thousands of fascinating packaging and design onsite. Among them, sustainable packaging and innovations were particularly present: utilizing the patented structure design, the PFP ® (Plastic Free Package) lock, produced by Shanghai Achieve-Tech Packaging Technology Co., Ltd., can be easily closed, and the carton can be firmly sealed without using plastic sealing tape. By avoiding the deplasticization process and reducing the use of chemical agents and water consumption, the whole process can be environmental friendly. With its one-piece design, UDN 5TH one-piece round tube, produced by UDN Packaging Corporation, reduces the wall thickness of the tube body from 0.45mm to 0.35mm, effectively reducing plastic waste and making the tube lighter. The overall use of plastic is reduced by up to 55% compared to traditional flip cap tube. The wine case, produced by Mingfeng packaging, is focused on "environmental protection". The wooden box uses P2 environmental friendly fiberboard and painted with environmental friendly PU glossy lacquer. The inside is made of environmental friendly cross-linked polyethylene foam cotton. The surface of the metal transcript is plated with K gold, and the velvet hot-stamping technology is also used to ensure its high-end quality.

Packaging & design displayed onsite
A conference program in tune with trends
This year's conferences clearly addressed the most vibrant topics of trends, sustainability, innovation and fragrance. The numerous attendees really appreciated the high-end speakers, both Chinese and international.
Considering the growing consumer awareness toward luxury shopping and aesthetics, multi-awarded designer DENG Xiongbo presented 360°packaging trends that created enjoyable and memorable experiences with strong narratives, consumer engagement and a modern twist to traditional culture codes.

Packaging design 360° trends review
Today, luxury and beauty brands have drastically scaled up sustainability pledges and actions. Bin HU, co-founder of Future Matters led the panel "Creating new material codes for the green generation" on engineering the future generation of biomaterials, incorporating aesthetics and design principles to challenge the status quo of sustainability.

Creating new material codes for the green generation
High-end design and creation are always amazing and desirable. Isabelle Gavalda, founder of SOMEXING, delivered "Inspiration 2024: Luxury Design Creative Concepts" to launch 8 creative design concepts. With a cross analysis of art, fashion, and design trends in China, Somexing presented turnkey luxury design boards that resonate the latest consumer insights and market trends.

Inspiration 2024: Luxury Design Creative Concepts
A luxury brand shall create products that not only look fantastic and eye-catching when completed but also ones that continue to be impactful for generations. Cyril Camus, president of CAMUS group, delivered "Breaking free of historical constraints to create timeless beauty" to share how the design of Camus Extra transcended time and cultural bias to create subtle, adaptable beauty that outlasts.

Breaking free of historical constraints to create timeless beauty
In the presentation of "France, perfume and heritage brands: what evolution for fragrance knowledge and recent trends?", Matthieu Rochette Schneider, Managing Director of Centdegres China, Pascal CHEN, Shanghai branch director of CCI France Chine, Célia LEROUGE BENARD, strategy director of MOLINARD, Josselin ROULET, sales general manager of JC Decaux and Anne-Sophie GAUVIN, managing partner of KeYi together discussed how heritage brands have made a comeback recently, and how to be an innovative brand addressing the younger generations while remaining proud of its history and values.

France, perfume and heritage brands: what evolution for fragrance knowledge and recent trends?
A record-number of inspiring animations
Every year, the LUXE PACK in green jury, composed of 6 brands experts (Camus, Chanel, Coty, Jahwa, Richemont and Terracycle) selects the best sustainable packaging solutions and responsible initiatives of exhibitors. The theme of this year's LUXE PACK in green space designed by PARTNER, was Marine Environmental Protection. This year's competition presented 29 sustainable packaging solutions and 4 responsible initiatives of exhibitors. After the jury's deliberation, Flairosol Personal Care, a new generation liquid distribution solution provided by AFA Dispensing Group, won the Eco conceived packaging solution award. For the second category, CSR Initiative, Kurz RECOSYS, a new recycling system of PET carrier film created by Kurz Group, was awarded by our experts. In the meantime, UDN 5TH one-piece round tube produced by UDN Packaging Corporation, eco-friendly RFID/NFC tag developed by Toppan, and Chantecaille gift box designed by Baixinglong ranked the top three of The PUBLIC AWARDS, according to the result of voting lottery for LUXE PACK in green.

 Display zone of LUXE PACK in green

LUXE PACK in green Awards Ceremony
LUXE PACK Shanghai 2023 & BETC DESIGN presented the sustainable packaging manifest which unfolded the knowledge into 9 best practices to help brands in their sustainability journey and prepared them for the future. Visitors test their knowledge in eco-design, discuss green packaging needs and had fun in the sustainable packaging manifest area.

Sustainable packaging manifest
Snowflakes, an installation by JUJUWANG in collaboration with Audemars Piguet, was displayed to inspire the public and go beyond the boundaries of the industry. Visitors were amazed by its creative concepts and latest technique. JUJUWANG was special guest of honor of LUXE PACK Shanghai 2023, and one of the three global talents to receive "Swarovski Designer of the Future Award". She also delivered her visionary talk "The Era of Synergy" in the conference room to explore the common ground between art, nature, and culture from the profound and interactive artistic work.

Snowflakes

"The Era of Synergy" by JUJUWANG
LUXE PACK SHANGHAI 2023 & CENTDEGRES AGENCY presented "5S" A fragrance journey from Grasse to Shanghai! Through this exclusive animation, visitors were invited to a sensory experience to discover the South of France and its unique expertise and history in scents and perfumes.

"5S" A fragrance journey from Grasse to Shanghai
"FUTUROLOGY: the future of fragrance", a project showcase from NACAA MASTER DEGREE 2022-2023, followed the viewpoint of the time and explored the integration and evolution of the perfume culture in the future public domain taking into account the local culture. They were inspired by history, culture, society, trends and other perspectives, comprehensively exploring the possibility of future technological and humanistic development. These young designers' vision of future formed of artistic expression, future global aesthetic trends and the evolution of cultural exchange was reflected in their fragrance creations.

FUTUROLOGY: the future of fragrance
Up to today, LUXE PACK SHANGHAI has been successfully held for 15 editions. As a premier trade show for packaging design, innovation and trends in China, the show stayed closely to the current burning topics at home and abroad, brought numerous global elements and provided abundant products & solutions. All the participants on this platform benefit a lot.
See you again at next edition of LUXE PACK SHANGHAI, on April 10-11, 2024!

Picture of LUXE PACK Shanghai 2023
Quotes from our Exhibitors and Visitors:
Exhibitors Comments
Mr. Luji TANG, general manager of Shanghai Lesu 3D Technology Co., Ltd.
LUXE PACK Shanghai 2023 provided us a high quality platform to showcase products and technologies. LESU, as a company focusing on innovative technology development, has harvested a large number of high quality customer resources at the show. We also expect that LUXE PACK Shanghai will gradually become the primary platform for the release of the latest technology in the packaging industry every year in the future.
Tim Ren, sales director of AFA Dispensing Group
We are pleased to participate in LUXE PACK Shanghai for the first time this year. The show had a very professional visitors and we had two precious days to show the latest Flairosol sprayers and the principles behind them. We are committed to bringing a high-end luxury spraying experience to our customers and we also want to make our own contribution to the planet for the environment.
Cici WONG – sales manager of Foshan Anran Import & Export Co., Ltd.
LUXE PACK Shanghai 2023, professional visitors, quality exhibitors, good exhibition effect, it will become one of the exhibitions we must participate in every year in the future, looking forward to more professionals to join!
Tingting FANG, key account manager of Follmann (Shanghai) Trading Co., Ltd.
LUXE PACK Shanghai 2023 is great! In this exhibition, we not only have a deeper understanding of the needs from the brands, but also get several partners which may work with in the near future. Looking forward to next year's show!
Visitors Comments
Anna KIM, global brand director of CAMUS YUANLIU
Luxe Pack Shanghai is an excellent show. It is always both insightful and great to see the evolution of packaging with greater care for our planet! And congratulations to the winners of Luxe Pack in green Award.
Tong Gao, product director of Beijing Tongrentang
Through this year's Luxe Pack Shanghai, we saw plentiful creative packaging and design ideas, and were able to find many excellent packaging suppliers, which totally achieved our visiting targets. In the meantime, the exhibition also presented abundant packaging designs, trends and solutions. We look forward to visiting again next year.
Min Zhong,senior director of Luolai Group
This is my first visit to visit Luxe Pack Shanghai. Our main purpose is to look for new suppliers and learn about packaging design and trends. There are many types of products displayed onsite, and the design is also very creative. We were able to find many interesting products and had in-depth discussions with some high-quality suppliers. I look forward to visiting again next year.
Press enquiries & accreditations:
Mainland China: Rose Wu | Email: [email protected] | T: +86-21-5169 2006-818
Out of Mainland China: Marie-Laetitia Luccioni | Email: [email protected] | Tel: + (0) 377 97 77 85 60